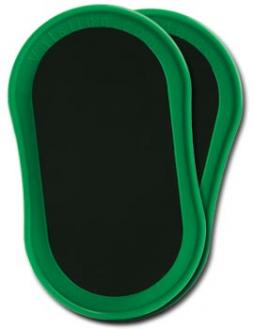 There are a few things that I always sport in my gym bag or locker, but recently one of my favorites is a set of ValSlides.
ValSlides Join the Body Weight Training Revolution
A little larger than my footprint (I wear a 7) and about an 1/8th of an inch thick, they don't take up much real estate, but find their way into most of my workouts, especially when traveling.
They're made of a slippery plastic that glides along carpeting, allowing you to perform exercises that you may have been doing for years but in a completely new  way.
When I'm in a hotel and don't have enough time to get to a gym, ValSlides make it so I can workout using my own bodyweight. Even though I'm used to heavier resistance training there are some incredibly challenging moves I can do with the ValSlides.
Powerhouse ValSlide Exercises
While the amount of things you can do with these nifty fitness accessories are almost endless, these are the ones I concentrate on because they seem to get the biggest response from my body.
Lying leg curls.
Reverse & side lunges.
Side squats.
I skim one arm outward in front of me like a sliding pushup, and lift up the opposite leg simultaneously.
Alternatively, I do one-arm slides that incorporate opposite knee to elbow action.
I mix together mountain climbers with traditional pushups for big metabolic boosts.
Different forms of active plank positions that tap into a ton of upper body muscles, like a plank wax-on pushup movement.
At the gym, I take things up a notch by holding a dumbbell goblet-style for an extremely challenging reverse lunge, or do intervals of high intensity mountain climbers using ValSlides. They come in green and.to my delight, hot pink. I've seen gimmicky products come and go, but the ValSlide is here to stay, trust me on this one.
Here are three ValSlide workout videos of me demonstrating my favorite exercises.
Remember to love yourself!
Megan