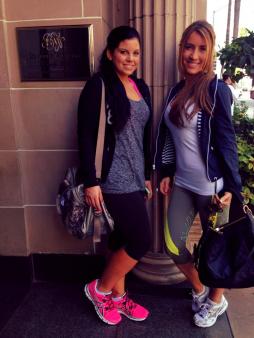 I'm currently in the lovely and sunny California. I'm here to meet with one of my favorite people, Valerie Waters. She is the creator of Valslides, and if you read review of her products, then you know why I adore them so.
These days more and more people for work and pleasure (myself included) so I decided to put a blog together that talks about how I incorporate fitness and nutrition into travel.  Frequent travel does NOT have to mean that you will get out of shape, but staying in shape will take some extra thought and planning.
I put this blog together so that people on the go can have a few handy fitness traveling tips in their arsenal.

My Favorite Traveling Fitness Tips
Before you go, or while en route, use a  locator app or your favorite search engine to map out a few gyms around where you'll be staying. Then narrow things down to the one that's the easiest to get to.
Leave more time to workout at new places because of the registering process. Remember, most gyms are going to charge per workout, but for me it's worth it. Plus, while I'm there I get my money's worth!
Furthermore, because each gym is typically going to be different, and have different things, I need some time to get my workout station/stations set up and have a handle on the lay of the land.
I make sure everything for my fitness is packed and ready to go before I leave. This includes my workout clothes, protein, any snacks, and my iPod so that despite the change in scenery, my routine stays on track.
Focus Brings Affect
Want to know one of the secrets to a successful life that, well, ironically everyone knows but few actually practice (especially in terms of fitness)? Set goals, and achieve them. Step by step. No one goes straight for Mt. Everest. Find the nearest mole hill and begin the journey there.
Keeping on track while traveling is one of my smaller goals which I've definitely mastered through disciplined patience and practice. Keep it simple, prepare and plan. Goals are more like friends that you play leap frog with. The difference is every time you land, you get a little stronger:).
Love Yourself, and Travel Safe!
Megan