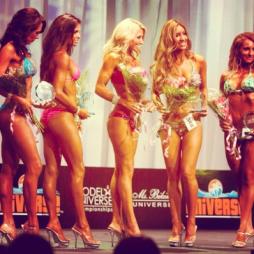 For three months I vigorously trained and mentally prepared myself for the fitness competition. Lots of ladies I know who are close friends, acquaintances, and clients are curious how I tackled it.
This article goes out to them, along with all the women in the modern world today with lofty fitness ambitions and resolutions.
A Fitness Model's Approach
The most important things when it comes to readying oneself for a competition like Miss Bikini America are training and diet. Although I can't claim to be perfect with either one, I've been consistent and dedicated enough to stay close to where I need to be to compete.
With that said, I do condition with high intensity and need to be more aware of my nutrition than the average gal just trying to fit into a nice dress for lady's night out. Even one slice of cake, or one mistimed calorically dense meal shows when you reach a certain level of body fat.
Planning Makes Perfect
Then there are the distractions, some more pleasant than others. A few weeks before the competition I was approached by a color company and informed that they wanted me to represent their product. Awesome! The only issue was that the trip I needed to take for them was a few days out from the trip to Vegas for the competition.
Exciting opportunities rarely arrive on time, or when we think they should; if they show up at all. I was forced to get super creative packing for the trips. Getting into stunning shape never comes easy, and when travelling it's almost impossible, but it can be done.
6 Travelling Tips for Fitness Lovers
Squeeze in an extra weight training session the week before departure, so that while traveling you can take a day off.
When possible, request an in-room refrigerator. It definitely comes in handy.
Kindly request that the hotel clear out the mini-bar, snack-bar, chocolate-bar etc. Why tempt yourself?
Pack nuts, apples, and a few supplement bars/protein shakes with adequate micro-nutrients for safe meals on the go.
Guzzle water on a constant basis.
Ensure that you get plenty of rest and relaxation to ward off and avoid fatigue.
In short, whether you're prepping your mind and body for a fitness competition or fitness in general, it's good to have a game plan set in stone along with healthy habits that help get you to your goal.
Believe in a better you!
Megan Graham