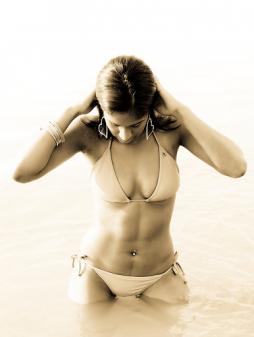 By day one, I've been training and eating the right things to prepare for Fitness America for three solid months. Finally, the day that I was waiting for, competition day, arrives.
Prepping
The morning was a whirlwind of furious activities. Up at 5:30 sharp to blow-dry my hair, then downstairs for a dark spray tan (maybe too dark, but I survived.) After the tan I went to see the splendid Josie Miller who wonderfully did my makeup, and then I bolted to my room to get changed.
The First Speed Bump
I felt a little tired and unprepared because I spent the day before flying to LAX from Vegas to get my competition outfit which never arrived. I spent 9 hours at LAX tussling with the sups but at the end of the day I went home empty handed and disappointed in the seller Vee Love Couture, for not shipping my outfit to me early enough.
I still maintained my positive attitude though, after all, what can you do? When things don't work out as expected, focus on the positives.
Competition Time
The first part of the competition was Miss Bikini America, and I was so nervous! I think everyone else was too. When I get in front of an audience it's as if I can't remember which foot goes first when I walk. Why does that happen? They are only people, right?
Afterwards I went to have lunch: Filet Mignon, mashed sweet potatoes and bread with olive oil.
I showered between events and went to get a fresh spray tan. For anyone familiar with competition tans, when you sweat the tan runs, and I was definitely sweating! Perfect, fresh tan and ready to go!
My second event was model America, and I thought it was so much fun, although tiring at the end of a long day. By the time I got out on stage I felt far more comfortable, and actually got some of my personality across (harder than it sounds). I grew up as a shy kid and every single time I step out on the stage I feel more confident about myself.
It's a big accomplishment to get up in front of hundreds of people, but well worth it. Get out there and fuel your fitness with a bit of healthy completion.
Love Yourself!
Megan